Do You Have A Construction Project We Can Help With?
Committed to quality craftsmanship
Servicing commercial building owners, contractors, property managers and home-owners.
Local Roofing For The Puget Sound

We are a well known locally operated shop with many satisfied customers and many years of experience. You can be assured that we have the highest standards with references to back it up! As a family operated business, we have always cared about our customers.
We are a team of skilled designers, technicians, and customer service personnel that will always go the extra distance to ensure the satisfaction of our customers. We would never have achieved the level of success that we have today without the referrals we receive.
Our installation teams adhere to the highest standards in the industry in regards to professional work ethics and image. They are well-groomed, uniformed from head to toe, and always courteous. They were handpicked for their proven performance records and work ethic. All of our technicians have received extensive training in all of the areas in which they perform work and are bonded and fully insured. Our quality work and integrity has earned us an A+ rating with the Better Business Bureau. You will have made the right choice for a roofing contractor when you partner with us.
Always look for a local, well-established group with a long list of verifiable references in the area when seeking a roofing contractor. Find one whose employees have remained with the company for a considerable time. You want to hire a contractor who will be there for many years to come to back up their work should a need arise. A well-established local contractor will rely on referrals for the greatest portion of their business and will hold a customer's satisfaction as their primary goal, as we do at Roofing Solutions NW.
Certified Duro-Last Techs
We had to learn the proper technique for installing the Duro-Last Commercial Roofing System©. We are proud to say that we recieved very high scores on our evaluations. When we do a Duro-Last Roof, we use our training and do it right!
The Right Tools For The Job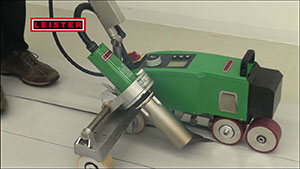 It takes a very specialized machine to handle the work for the Duro-Last® Commercial Roofing System. Its the LIESTER VARIMAT V2. Using the new VARIMAT V2 plastic insulation sheets can be welded together rapidly and that gets your job done at a lower cost. You can look at this amazing machine in this video. Just click the pic to the left!
WE USE ONLY QUALITY PRODUCTS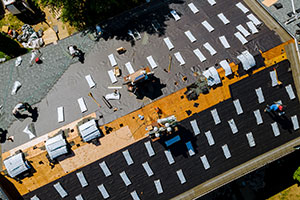 Clients Agree
I hired Roofing Solutions NW to replace my flat roof. I got 4 quotes – 3 for Torchdown roofs and one for PVC – and their PVC roof was lower cost, had twice the warranty, and was started and completed quickly and on short notice. The new roof looks to be much better than a normal Torchdown in many ways.
When our 62,000 SF building in Redmond, WA needed a new roof, we were struggling to decide which roof we should install, the cost of the new roof, and which company to hire. We needed to make sure that whoever is going to install the new roof is experienced and can support their work if future problems arise.

I contacted and interviewed 4 companies that specialize in commercial roofing. I got more confused because I got 3 different approaches and cost that ranged from $145,00 for adding a layer over the existing torch down rolls to $350,000 for Thermoplastic TPO single membrane system.

Since it was going to be a large investment, I consulted with a friend who introduced me to the owner of Collaborative Construction Services (3COS) in Kirkland WA. Javad, the owner of 3COS visited the site and recommended the use of Duro-Last Roofing System.

3COS introduced me to Alex, the owner of Roofing Solutions NW. He was highly recommended because of the quality of work he did on previous projects, and his continuous support after the project is completed. Alex is also a Duro-Last Roofing system certified installer.

I contacted Alex and he came the second day to inspect the roof so he can give me his recommendations. We had a lot of issues with water collecting on all corners, drains higher than roof line, etc… in summary we had a lot of problems to deal with.
Alex was able to address all the issues and presented us with a plan that will guarantee the roof to be leak free. I liked Alex from the first time I met him. He presented himself as the installer and not only the sales person, he was very confident of what he was saying and almost everything he was saying regarding the issues we had made sense.

We awarded Roofing Solutions NW the contract for $225,000 to install a new Duro-Last Roofing system. It was the best investment we did. Alex was able to get the project done on time and on budget as promised. Alex was on site for most of the work and clearly knew exactly what he was doing. The work was done on schedule and as agreed. Alex also added walking ramps free of charge to allow the HVAC crew to walk around for maintenance. He also sent his crew in January to inspect and clean the roof. The project was very smooth and the result from start to finish was well beyond my expectations.

I have not had any issues with the roof since Alex completed the installation. I highly recommend using Roofing Solutions NW for any roofing project. You will not be disappointed!

Should you have any questions, please do not hesitate to contact me.
We love our new roof, siding & gutters! They completely changed the look of our house!
Thank you for the wonderful repair job that you and your crew did for me. I will call you again when I am ready to have my whole roof replaced.
Roofing Solutions NW was one of 3 roofing contractors we called when we needed to replace our roof. They were very professional, and considerate of our time and our property, did the job they promised to do, and followed up to ensure our satisfaction.

I couldn't be more pleased with the job they did. I give them 5 stars (out of 5) and would recommend them to anyone.
When we decided to re-roof we got a recommendation from one of our friends who had their roof done by Roofing Solutions NW. They gave us a quote we thought was very reasonable and came out and met with us, explained the process and we scheduled the start of work.

We liked the way they kept the materials organized, so we had very little inconvenience, also they way they left the work-area clean at each day's end. The job they did was excellent, and we were very happy with the results. The crew was also a pleasure to work with.

We would recommend them to our neighbors with no hesitation, as they were recommended to us. Thanks for a great job!
MANUFACTURERS WARRANTY
Roofing  Solutions NW is one of the rare roofing contractors who's work is warrantied by the material's manufacturer. Get the details!
Tell us about your project and we'll get started on your estimate immediately.